Our Mission
The Mission of the Wabanaki Women's Coalition is to increase the capacity of tribal communities to respond to domestic and sexual violence, and influence tribal, national, and regional systems to increase awareness, safety, justice, and healing for all our relations.
Our Vision
Guide the evolution of systems and policies that reflect our Wabanaki voice on behalf of survivors of domestic and sexual violence.
Create a technical resource center that affirms Wabanaki cultural values and tribal sovereignty, and empowers tribal service providers to serve, educate, and influence their communities in an effective and uniform way.
Be recognized as the informed source for issues on Wabanaki survivors of domestic and sexual violence.
Our History
The formation of the Wabanaki Women's Coalition (WWC) was a long held dream of the two Maine tribal domestic violence and sexual advocacy programs that had been providing victim services for over 15 years. It was not until 2012 though that all five Wabanaki Tribes had domestic and/or sexual assault programming. It was that same year that the Office on Violence Against Women (OVW) funded First Nations Development Institute (Longmont, CO) to provide technical assistance and act as fiscal sponsor to assist us in applying for IRS non-profit 501(c)(3) status. The WWC was incorporated and received IRS 501(c)(3) status effective October 2, 2013. The WWC was awarded a FY2014 OVW Grant to Tribal Domestic and Sexual Violence Coalitions and hired Jane Root as Executive Director. The WWC is now fully operational and looking forward to fulfilling its mission.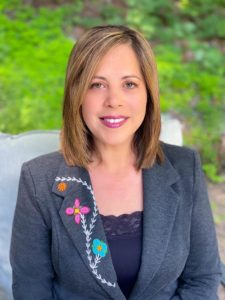 Donna Brown (Penobscot/Anishinabe)
WWC Executive Director
Wabanaki Women's Coalition Board and Staff
Chair: Desiree Tyrrell, Director, Indian Township Passamaquoddy Domestic and Sexual Violence Advocacy Center
Secretary: Patricia Graffam, Coordinator, Penobscot Nation Domestic and Sexual Violence Advocacy Center
Treasurer: , Krista Stevens, Director, Mi'kmaq Nation Domestic and Sexual Violence Advocacy Center
Board Member: Sarah DeWitt, Advocate/Shelter Coordinator, Micmac Domestic and Sexual Violence Advocacy Center
Board Member: Chief Clarissa Sabattis, Houlton Band of Maliseet Indians
Board Member: Matthew Dana II, Chief of Police, Indian Township Police Department
Executive Director: Donna Brown
Outreach Coordinator: Aline Pardilla